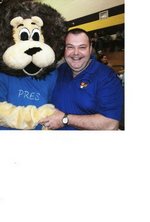 Welcome to PRES! We are glad you came to visit!
13001
Email
Greetings!
It is my honor and pleasure to be the Principal of Prosperity-Rikard Elementary School, now in my 11th year. We are pleased that you have chosen to visit our website. We have about 400 students and a very supportive and energetic staff that desires nothing more than success for your child. We have some great opportunities for students. What we want from our students each and every day is for each one of them to put forth their best effort in all that they do. We practice practical life skills and life long guidelines each day at school and incorporate the 7 Habits for Successful Students in all that we do. Students have learned that "You really never know what you can do until you try!" Please call us or visit if you have questions.
Any time that you have questions about our school or if you are a parent and you have questions, PLEASE CONTACT US! We cannot answer questions that are not asked.
Timothy J. Lyden, Principal