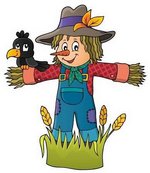 Scarecrow Clip Art
Please send in your Box Tops now!
The class that collects the most Box Tops
until October 26th will get to build a scarecrow
for our school garden, and also get a special
class surprise. Ask your friends, family members
and neighbors to collect too. Box Tops
help provide extra money for our school.